Welcome to the Melbourne Ice-Hockey Rookies Wiki
Edit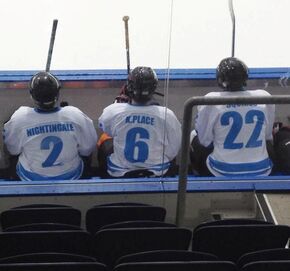 Welcome to the place where you can learn about the Ice Hockey in Melbourne and the Melbourne Rookie hockey players, most of whom started out at hockey school at the Icehouse in Docklands, Melbourne.
Our goals are simple:
share hockey knowledge and news
support local hockey
promote awareness of the Rookies' existence and our need for more support (ice time, lessons, cheaper gear, you name it)
have FUN!
A few simple guidelines:
keep it clean
keep it hockey
personal disputes go elsewhere
admins are there to monitor the above
Again, welcome and hope you have a great time amongst friends!
Please remember to edit and contribute to this wiki for the benefit of all.
Our public-facing page can be found at: https://www.facebook.com/MelbourneHockeyRookies
email to group admins: TeamIceRookies@gmail.com
Latest activity
Edit
Community content is available under
CC-BY-SA
unless otherwise noted.